9.6 ACRES
Townhome Site
San Antonio, Texas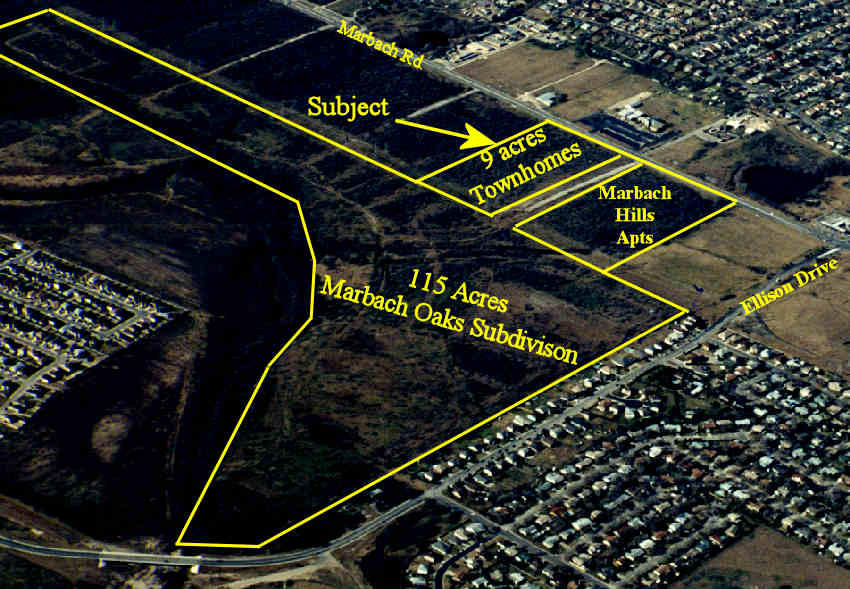 LOCATION: Marbach Road, 2 miles west of Loop 410 on south side of Marbach Rd. near Ellison Dr.
SIZE: 9.6 net usable acres, unplatted
MUNICIPALITIES: None, located in Bexar County and San Antonio E.T.J.
FRONTAGE: 545 feet on s/s Marbach Rd.
ZONING: Unzoned, zoning not required. PROPERTY IS NOT LOCATED ON OR ADJACENT TO THE EDWARDS UNDERGROUND RECHARGE OR TRANSITION ZONES
UTILITIES: Sewer: Off-site 605 feet to the east must be extended at Buyer's cost to San Antonio Water System, 12" main off-site.
Water: Bexar Metropolitan Water, 12" main on-site Marbach Rd.
Electricity: CPSB, three phase on-site on-site Marbach Rd.
Natural Gas: CPSB, natural gas main off-site at Marbach Rd. and Ellison Dr. approx. 688.5 feet east
SCHOOL DISTRICT: Northside I.S.D.
POTENTIAL USE: Townhomes with retail pad
SALES PRICE: $2.25 per square foot - $ 940,896
Contact: Todd Beebe at Hogan Real Estate Services
210) 682-1500 Office, FAX (210)682-4015