FOR SALE
1.7 Acre Platted Retail Lot
SAN ANTONIO, TEXAS
Approved Subdivision Plat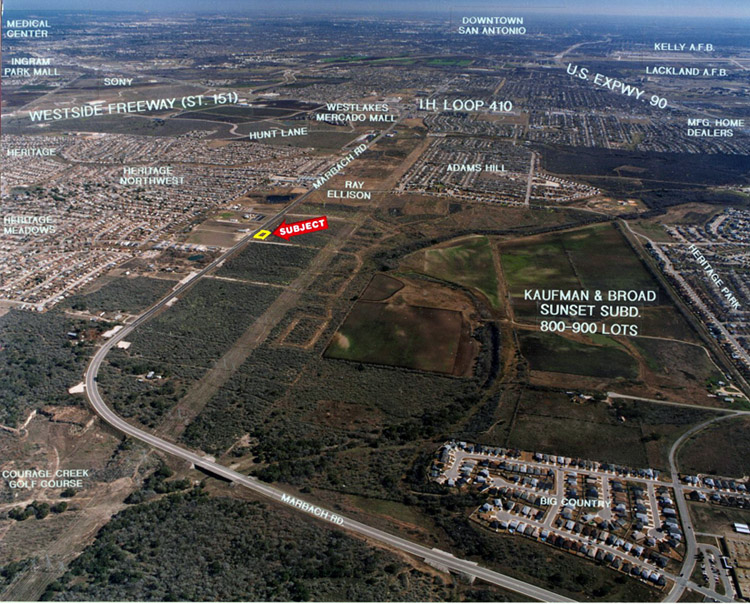 LOCATION: Marbach Road approx. 2.5 miles west of Loop 410 on south side of Marbach Rd. approx. 1,871 feet west of Ray Ellison Dr. South.
SIZE: 1.724 acres, platted as part of Marbach Oaks Manufactured Housing Park, Unit 1, Plat #980341
MUNICIPALITIES: None, located in Bexar County and San Antonio E.T.J.
FRONTAGE: Approx. 359.78' on south side of Marbach Road
ZONING: Unzoned, no zoning required by Bexar County. PROPERTY IS NOT LOCATED ON OR ADJACENT TO THE EDWARDS UNDERGROUND RECHARGE OR TRANSITION ZONES
UTILITIES:
| | |
| --- | --- |
| | Water: Bexar Metropolitan Water District, 12" A.C.P. on Marbach with 8" and 12" A.C.P. mains on site. |
| | Sewer: San Antonio Water System, 8", 10", 12" and 15" mains just off-site adjacent to property. |
| | Electricity: CPSB, three phase on-site on Marbach Rd. |
| | Natural Gas: CPSB, on Marbach Rd. |
SCHOOL DISTRICT: Northside Independent School District
POTENTIAL USE: Retail
COMMENTS: Water mains already underground and sewer is adjacent to property ready for extension.
SALES PRICE: $2.50 per sq. ft. for retail pads
Contact: Todd Beebe at Hogan Real Estate Services
(210) 682-1500 Office (210) 682-4015 Fax or tbeebe@hoganre.com